The UK Parking Control case study
UK Parking Control Ltd provide bespoke, professional and cost effective solutions for both large corporate organisations as well as SME's all across the UK.
SOMETHING DIFFERENT
UK Parking Control Ltd wanted something to energise both their sales team and their clients. They chose the Virtual Sales Presentation as it was new and fresh and was something that they had not seen before.
They were looking for a completely different sales approach to have an edge over their competitors and this method enabled them to tailor the sales message to the client, engaging them straight away. Their clients loved it.
UK Parking Control Limited now have 15 Virtual Sales Presentation users within the company. They have achieved positive results, with a newly proactive sales team and a spike in sales.
THE RESULTS
Rupert Williams, Managing Director of UK Parking Control says "This was an investment. However, what's come back for us is far greater than what our investment was, so it's been a great investment. If you're looking for something different, to have the edge on your competitors, it's the only way."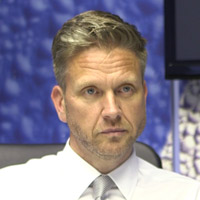 Rupert Williams - UK Parking Control